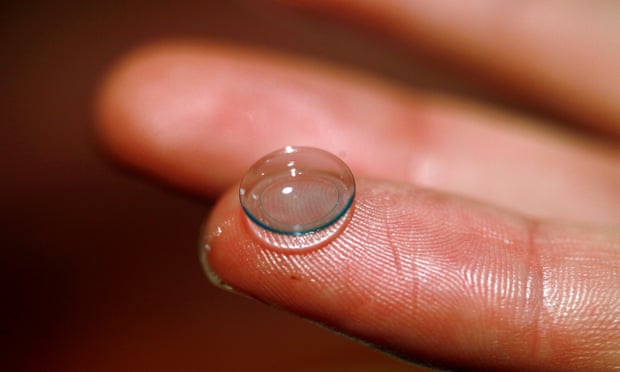 This is just a rant about total illiteracy of human behaviour, leading to literally the worst recycling expansion I have seen in my entire career.
A contact lens weighs about 25 milligrams, so an entire year's supply of lenses is about two-thirds of a gram. A person's entire life supply of lenses would weigh less than a small bag of potato chips.
And some shiny penny thought we should recycle those…
So–what? Do you put that downy featherweight of a lens into an… envelope?
You are recovering just a few grams of plastic. Sadly you cannot recover all the energy needed to manufacture these amazingly precise high-tech accessories. You can't recover any of the waste manufactured when oil was drilled to supply plastic feedstocks or the transportation energy. You can't recover any of the ore that was manufactured into steel, and then was manufactured into diggers and loaders and trucks and trains and ships and planes that brought the lens materials and the packaging materials and the lenses themselves to you in your store.
All of that has been irretrievably burnt, leaving you with just 25 milligrams per eye.
Just play out the user behaviour. Are you going to store those tiny lenses in a tiny container in the medicine cabinet? Are you going to put them in a dish? Will they be kept in a box?
And then every January 1, Out with the old and in with the new!—you put your 0.65 grams of into a paper envelope that weighs ten times as much and mail it off!
Is there any way I can say this that doesn't sound totally batshit? That is because it is next level stupidity.
So you put your lenses into an envelope—6.75 grams of paper, backed up by, again, oil pumping and pipelines and refineries and logging trucks and silted streams beside logging roads and barrels of bleach in the papermaking process?
Clearly that is making the world a worse place.
You make a trip to a depot, or drop your envelope of lenses in the mail–and a postal truck comes to empty the postbox and carries the sack of mail to a sorting centre (a huge building made of mined minerals and extracted trees, manufactured with ever more machines of ore and energy). On and on it goes.
Even were we so foolish as to participate in this scheme, what will happen to the plastic from the lenses? We can't just melt it down and make a milk jug, they are totally different plastics. We are certainly not going to make new lenses out of it.
So it is quite likely the company that recycles these is simply going to slit the envelope, dump the lenses in the trash, and toss the envelope in the blue bin. (I am not joking, and I have spent much of my career working for zero waste so I am not some right-wing hater spreading propaganda about the failure of the recycling system.)
But this contact lens scheme will also recycle packaging! And that packaging is already recyclable in even the most basic blue bin program so…the benefit of that is also probably negative.
We are going to use enormous amounts of new resources to capture a tiny amount of non-recyclable materials. That is stupid.
And we have burnt the attention required to recycle the lenses. The same amount of attention could have been spent on recycling an aluminum can, which has such a positive recycling benefit that there should be the death penalty for throwing cans in the garbage. Or spend that attention on a 25 milligram contact lens, I mean, whatever.
Here is another way to slice the stats. Almost two and half million people live in Metro Vancouver, and of those about 12% wear contact lenses. That is almost 300,000 people and they throw away 192 kilograms of lenses each year.

192 kilograms!

Meanwhile, Metro Vancouverites throw away about 150,000,000 kilograms of paper every year. This is regular paper that should go in the blue box for recycling. 150,000 tonnes of it, but we should burn our cognitive capacity paying attention to 0.65 grams of contact lens per person?

Please just stop.
This is far from the first time this sort of planet-killing distraction has come about. Here is an article from 2010.
https://slate.com/…/are-glasses-better-for-the-planet-than-…
Here is a high-level look at the life cycle of contact lenses.
http://www.designlife-cycle.com/soft-contact-lenses/